Parks, Facilities and Trails
Use the search functions below to find a Facility, Park or Trail - click on the facility type and/or enter a name in the search box. You can use the advanced search button to search by amenities, features, and settlement area. Results will be displayed below the map.
Wilmot Customer Service
Wilmot Recreation Complex
1291 Nafziger Road
T: 519-634-9225
Toll Free: 1-800-469-5576
TTY: 519-634-5037
Email
Map this Location
Address:
89 Bonaventure Drive, New Hamburg
Description: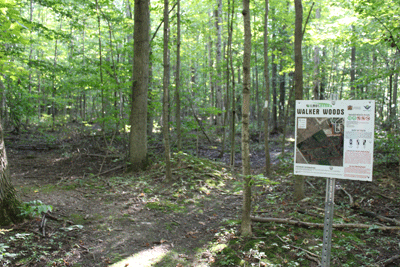 Walker Woods trails have now reopened (October 26 2018). Due to the removal of ash trees and other hazards there are significant number of lying trees and branches throughout the forest. These removals were necessary as a result of the impact of the emerald ash borer.
Located in New Hamburg, Walker Woods offers over 2km of hiking trails.
The trail head can be accessed by a sidewalk and stonedust trail starting at Highway 7/8 and running along the west side of Haysville Road.
Alternatively parking is available at 89 Bonaventure Drive with a stonedust trail leading to the trail head.
Hiking trails
Walking Paths